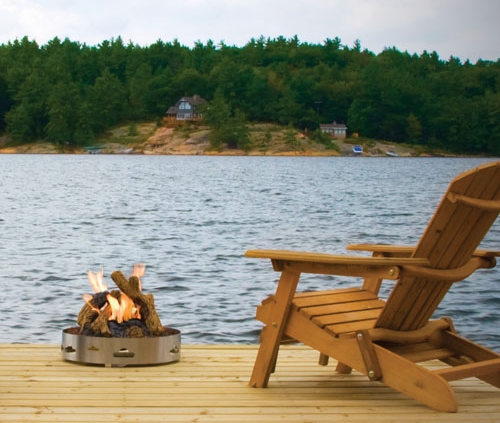 Top 5 Reasons for Adding an Outdoor Fireplace to Your Yard
The fireplace is a symbol of elegance and comfort, and it is often the centerpiece that can tie a room together. Now, more than ever before, we are seeing fireplaces outside the confines of the home. The yard is becoming a popular place to hold a fireplace, and there are many reasons why. In today's post, we have 5 great reasons why you should add an outdoor fireplace to your yard.
1. Entertainment
A well-placed outdoor fireplace can extend the party space from inside to outside. Imagine having a gathering of friends by the fireplace where you can converse, laugh, eat, and drink. Your friends and family will flock to your events and parties. The possibilities for entertainment are incredible with an outdoor fireplace. Don't be surprised if your yard becomes ground zero for holiday-related gatherings.
2. Warmth
During the colder months, it can become monotonous to stay indoors. An outdoor fireplace enables you to relax outside while heat emanates from the fire. With a fireplace, your yard can be properly enjoyed year-round. On chilly days and evenings, there is no better feeling than being close to a cozy, warm fireplace.
3. Cooking
With the proper equipment, a fireplace or fire pit can be used for cooking. Install a cooking grate with the fireplace, and you'll be able to cook a large variety of items. Or, you could opt with the fireplace staple of roasted marshmallows. The ability to cook makes the outdoor fireplace extremely versatile. The fire grate makes it similar to using a grill, although its temperature won't be as accurate.
4. Increased Property Value
An outdoor fireplace is a stylish, useful addition to any home, and it can easily increase your property value if you sell your home in the future. Potential buyers will love an attention-grabbing fireplace. If you do plan on selling the home in the future, ensure that you keep the fireplace well maintained.
5. Ambiance
A fireplace has an aura of sophistication. It creates a cozy, inviting ambiance. Expect your friends and family to visit more. Expect to spend more of your evenings outside. Expect more lively gatherings as the fireplace acts as a catalyst for conversations. You will marvel at the sheer beauty of the fireplace as its flames roar through the night. An outdoor fireplace will be an excellent addition to your home, and the overall ambiance is a big reason for that.
https://keystonepropane.com/wp-content/uploads/2019/07/outdoorfireplace.jpg
500
500
Keystone Propane
/wp-content/themes/enfold-child-keystone/images/keystone-logo.svg
Keystone Propane
2018-05-24 00:00:00
2018-05-24 00:00:00
Top 5 Reasons for Adding an Outdoor Fireplace to Your Yard