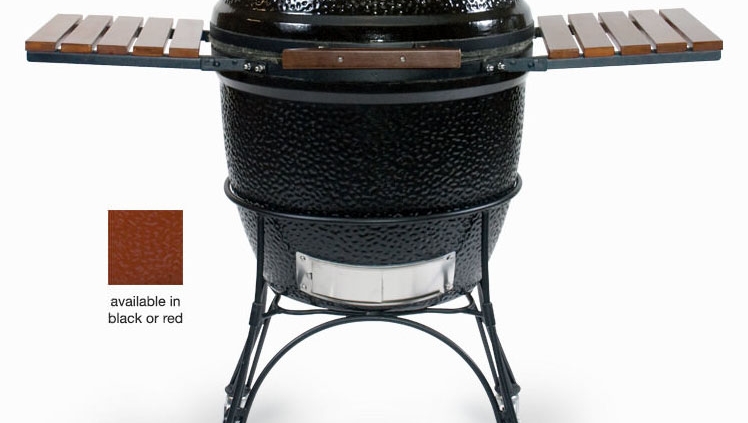 Why Choose a Kamado Grill?
If you are among the many grill enthusiasts who are always looking to improve your grilling techniques, you may be interested in learning more about the Kamado Grill. Kamado grilling is becoming an increasingly popular way to prepare your favorite foods, giving you juicier meats with the wood-fire flavor that makes mouths water.
What Is Kamado Grilling?
Originally used by the Japanese, the first kamados were ovens used for firing and cooking made from ceramics and other earthen materials. Modern grilling experts turned to the original kamado to create today's version, which is considered by many to be the premium method for outdoor cooking. They are typically fueled by charcoal, however, there are also other versions that rely on gas or electricity. The ceramic construction of the kamado delivers an impressive amount of heat retention, making the kamado grill an extremely efficient means of cooking outdoors. It is also incredibly versatile in the types of foods it is able to prepare. The adventurous cook can do much more than strictly grilling, as the kamado grill is also well suited for not only smoking and roasting but baking bread and pizza with the use of a pizza stone.
The Convenience of Kamado
One of the most attractive features of the kamado grill is that it can cook pretty much any type of meat you would normally cook in a conventional. Some kamado grills even offer a rotisserie option that will allow you to crisp your meat to perfection. Because most kamado grills usually use lump charcoal in lieu of the traditional briquettes, they burn cleaner and leave less ash behind. To keep the small amount of clean up as easy as possible, many kamados include a slide-out tray to dispose of the little ash that is remaining after cooking.
Another great feature of many kamado grills is that they come with the ability to cook on multiple surfaces at the same time via an internal tray. The convenience of the internal cooking tray allows you to cook several foods at once, making it possible for your meat and vegetables to be finished cooking all at the same time. These separate heat zones are tremendous time savers for those of you looking for a quick and delicious meal.
Have you ever cooked on a kamado grill? If so, please feel free to leave us feedback on your experiences, and don't forget to visit our page for The Big Green Egg for more information!
https://keystonepropane.com/wp-content/uploads/2019/07/KAMADO-JOE-CLASSIC-18.jpg
801
748
Keystone Propane
/wp-content/themes/enfold-child-keystone/images/keystone-logo.svg
Keystone Propane
2014-04-03 00:00:00
2014-04-03 00:00:00
Why Choose a Kamado Grill?