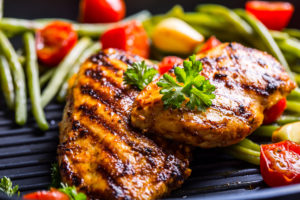 Benefits of Propane Grills
It's time to start gearing up for that big weekend bash so you can kick your summer off right. If you're ready to get your grill on but are still unsure whether propane is the best choice, Keystone Propane is here to help.
Did you know that gas grills typically outsell charcoal grills on a national scale? It's true! There are many reasons for this, and some of the most common include:
Convenience
Propane grills are easy to start, heat up quickly, and hold a steady temperature. Lighting a charcoal grill can often take several attempts, but with propane, all you need to do is turn the dial and you're fired up and ready to go.
Control
A propane grill normally reaches full temperature in less than 15 minutes and offers a variety of methods for cooking. Whether you want multi-zone cooking or indirect heat, propane gives you the flexibility to cook how you want, when you want.
Easy to Clean
It's considerably easier to clean a propane grill compared to a coal grill, and one reason for this is that propane naturally has a cleaner burn than coal. Forget disposing of the crumbled briquettes and the soot that seems to end up everywhere. With propane, all you need to do is give the grill a thorough wipe down and you're good.
Taste
Taste is where proponents of charcoal usually insist they're on top … but we beg to differ. Some people may enjoy a bit of smoky flavor, but it's incredibly easy to overdo it, especially if you don't know when enough starter fluid is enough. No one likes the taste of butane, and we'll even take it a step forward and say that many people actually prefer to eat meat that tastes like beef.
Versatility
Many propane grills also come with accessories that allow you to expand your cooking station even further if you choose to. With everything side burners to rotisseries add-ons, spice racks, side tables, storage drawers, and more, you're sure to find a propane grill that meets your needs perfectly.
The Many Benefits of Propane Grills
If you have any questions about the benefits of propane grills or would like to know more about the propane grills offered by Keystone Propane, feel free to contact us today or stop by one of our showrooms!
https://keystonepropane.com/wp-content/uploads/2019/07/shutterstock_326600915-300x200-1.jpg
200
300
Keystone Propane
/wp-content/themes/enfold-child-keystone/images/keystone-logo.svg
Keystone Propane
2017-05-16 00:00:00
2017-05-16 00:00:00
Benefits of Propane Grills