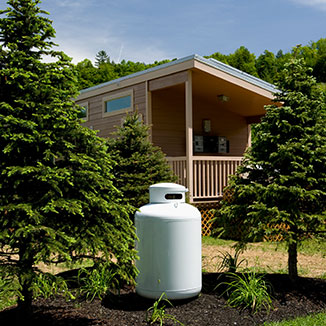 When is the Best Time of the Year to Purchase Propane for Your Home?
We all like to save a few dollars here or there, right? From grocery store coupons to holiday sales and even discounts for your auto insurance, it's all something we can agree on — saving money is a good thing.
So if you could save a few dollars on your propane bill, you would definitely jump at the chance, right?
Well, there is a way, if you know when is the best time to buy propane for your home. And Keystone Propane is here to share that knowledge with you.
Early Fall is the Perfect Time to Buy Propane
Unfortunately, when it comes to buying propane, many don't think about it until the temperatures begin to turn colder. And that's a mistake. As you can imagine, the winter months are usually the time when prices are higher than they are right now. In fact, prices are always fluctuating, even in the summer months where people are buying propane for grilling or camping. And the higher the demand, the higher the prices go.
But early fall is the perfect time to buy propane. The temperature during this time of year is pretty stable so you know the likelihood of a sudden cold snap won't happen as it does in the wintertime. And without that demand, the cost of propane should be quite low.
Also, by scheduling your delivery in the early fall, you know that you're ready for when the cold weather does hit. While your neighbors are scrambling to set up propane deliveries, you and your loved one will be enjoying the warmth of your gas fireplace without worrying about your propane running out.
Summer Months are Also a Great Time to Schedule a Delivery
But early fall is not the only time you should be thinking about buying propane. Summertime is also a great time to schedule your next propane delivery. Not only is the demand for propane still somewhat low compared to the winter and early spring months, but you may also be using more propane now than you thought.
As we've mentioned before, if you're a fan of outdoor living, then chances are you're using your propane to heat your pool, keep your patio warm, start a fire, or even grill up some dogs. So make sure you don't run on empty before the cold weather settles in!
Still Worried About Prices? Try Our Pre-Buy Program!
From August 1 through September 30, Keystone Propane offers a propane pre-buy program that allows you to purchase a minimum of 500 gallons of propane to use from October 1 through May. This allows you to lock in the current price to pay for these gallons. It's a great way to save money, so make sure you sign up through the Customer Portal or our mobile app.
We also have a budget program available. With the program, we review three years of your propane delivery history. Using that information, we create a budget-friendly plan. A letter will be sent to you with a determination on your monthly budget payments for the year. The budget program starts each June and runs until the following May.
If you want to learn more about our programs or are interested in scheduling a propane delivery, now is the time to pick up the phone and give us a call at (800) 598-5047. And don't forget, you can always schedule your next propane delivery from our easy-to-use mobile app or our online Customer Portal.
https://keystonepropane.com/wp-content/uploads/2019/07/appGreen1-1.jpg
326
326
Keystone Propane
/wp-content/themes/enfold-child-keystone/images/keystone-logo.svg
Keystone Propane
2021-07-07 12:13:42
2021-07-07 12:13:42
When is the Best Time of the Year to Purchase Propane for Your Home?