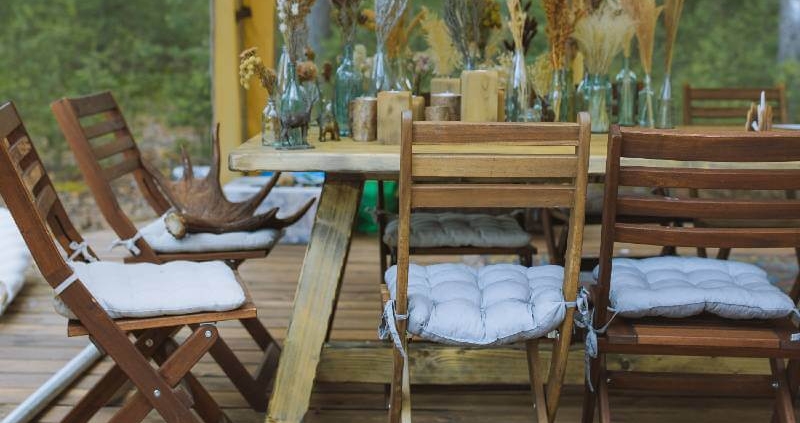 How to Improve Your Outdoor Living Space with Propane Products
If the Covid-19 pandemic has taught us anything, it taught us how to enjoy the great outdoors. According to recent news articles, with stay-at-home and shelter in place orders, many residents took a good look at their outdoor living space and began to imagine ways to improve the space. And even with the pandemic nearing the end (finally!), many homeowners are looking to spend more time outside with their loved ones.
So, where does propane come into the equation? You would be surprised! From backyard barbecues to warming up chilly nights, to even heating your swimming pool, propane can be used to power your outdoor living area in various ways.
If you're thinking of improving your outdoor living space this summer, here are a few propane products you may want to consider in your design plans.
Propane Patio Heaters
The patio is the focal point of many backyards. It's a gathering place where you can enjoy the weekend with your family, entertain your guests, or just decompress after a long day at work. But summer nights tend to get rather cool, especially if you've been out in the sun all day.
The best way to get the chill out of the air is with a propane patio heater. These heaters can throw off a lot of heat, warming up your patio pretty quickly. And since a patio heater uses propane, a cheaper alternative to gas or electricity, you can heat your patio space without worrying about your wallet.
Propane Pool/Spa Heaters
Sure, everyone wants the pool to be cool when jumping in on a hot, summer day. But pool temperatures can be temperamental, and that chilly pool water can easily become uncomfortable after a bit. But if you heat it with a propane pool heater, the temperature can be more reliable and in your control. So even on a cold summer day, it can stay a nice 70 degrees.
And as the temperature begins to cool, you can easily change over to your hot tub, complete with a propane heating system. These systems are smaller than the electric ones and can heat the water much more quickly.
Outdoor Fireplace and Fire Pits
If you want to get the party started this summer, you may want to consider adding an outdoor fireplace or fire pit in your home.
Propane fireplaces or fire pits offer a clean and smokeless burn, so you won't smell of charred wood by the end of the night. And with a continuous fuel source for your fire, you never have to worry about feeding the fire or cleaning out the debris before lighting a new fire. And best of all, they're safer for kids. All you need to do is turn off the flame before anyone is harmed.
Outdoor Kitchens
We've said it before and we'll say it again, propane grills are your choice for cooking outdoors. With easy cleanup, quick-cooking times, temperature control, and safety features, a propane grill is the item you should add to your outdoor kitchen this summer.
But that's not the only propane appliance you should add to an outdoor kitchen. If you love pizza (and who in NEPA doesn't love pizza?) consider adding a propane pizza oven. In fact, you may want to consider purchasing a Big Green Egg. With popular accessories such as a deep dish baking stone, pizza peel, and cast iron cooking grid, it's the perfect cooker to add to your outdoor kitchen.
Considering Propane Products for Your Outdoor Living Area?
If you're thinking about expanding your outdoor living area this summer, don't forget the propane appliances! It will turn your backyard into the oasis you're craving.
Keystone Propane can help. From tanks and equipment maintenance to emergency service and automatic delivery, we're here to make your summer great! Stop by our showroom to see what we have in store or contact us for more information.
https://keystonepropane.com/wp-content/uploads/2021/06/Outdoor-Living-with-Propane-Keystone-Propane.jpg
915
800
Keystone Propane
/wp-content/themes/enfold-child-keystone/images/keystone-logo.svg
Keystone Propane
2021-06-16 09:04:46
2023-03-02 11:56:10
How to Improve Your Outdoor Living Space with Propane Products