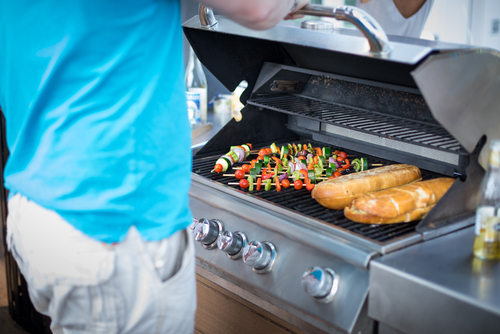 7 Safety Tips for Grilling with Propane
Labor Day is right around the corner, and for many of you, this may be the last chance you have to throw that wild outdoor bash you deserve. Keystone Propane is here to help you do it safely so you can enjoy every second of your Labor Day holiday. Here are a few useful safety tips for grilling with propane to get your party started right.
Propane Grill Clean Up
Some people leave behind all the leftover crusties on their grates because they feel it results in more flavorful cooking. However, it's extremely important to note that about one in every five grill fires is caused by leftover grease. The risk just isn't worth it. Make sure you take the time to clean your propane grill thoroughly.
Going the Distance
With the recent upswing in outdoor living spaces, it seems like comfy furniture is making more of an appearance outside while grills seem to be getting closer and closer to your home's inside. Be smart and make sure you always position your grill at least five feet or more from your house, outdoor furniture, trees, or anything else.
Safety Checks
Whether you're an avid griller or someone who only fires it up on major holidays, it's a good idea to check your hoses for damage caused by regular wear and tear. If you find a split or crack, replace your hose immediately.
Proper Utensils
Don't try to get away with using a short-handled spatula on the grill. Avoid burns by using long-handled utensils only.
Propane Storage
We highly recommend that you store your grill's propane tank outdoors only. Keep it covered whenever possible and stored in an upright position.
Emergency Readiness
You should always have a fire extinguisher handy, whether you're grilling or not. Make sure you test your extinguisher regularly so you know you can count on it if the need should arise.
Closing Time
When you're done cooking, always turn off both the cylinder valve and the burner control so you're certain your grill is completely off.
And remember … Labor Day doesn't necessarily mean grilling season is over!
https://keystonepropane.com/wp-content/uploads/2019/07/shutterstock_697521358.jpg
334
500
Keystone Propane
/wp-content/themes/enfold-child-keystone/images/keystone-logo.svg
Keystone Propane
2017-08-28 00:00:00
2017-08-28 00:00:00
7 Safety Tips for Grilling with Propane