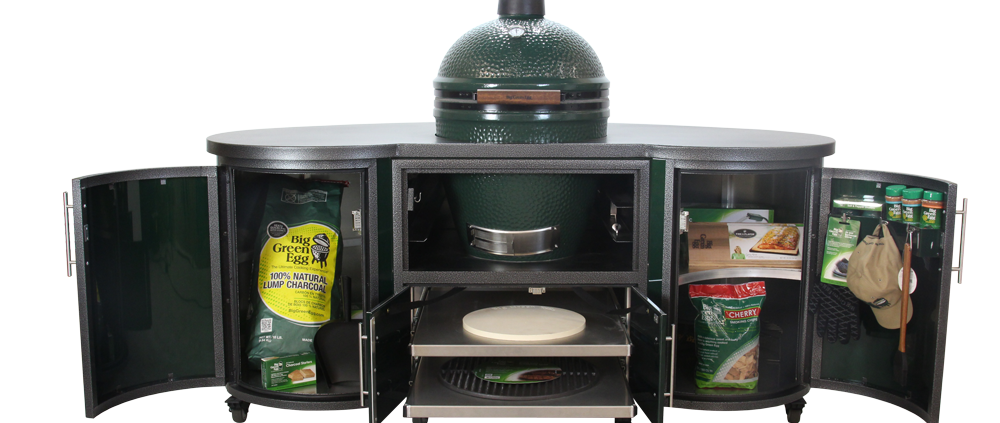 10 Big Green Egg Cooking Tips
If you haven't used a Big Green Egg before, you've never experienced everything it has to offer as far as convenience, flavor enhancement, and safety. The Big Green Egg reaches your ideal cooking temperature in just minutes, is extremely easy to start, and is much safer to use than traditional metal grills because its ceramic surface stays cooler.
Here is a list of Big Green Egg cooking tips that both new and experienced users will find extremely helpful:
Big Green Egg Cooking Tip #1
Use a complete load of Big Green Egg natural lump charcoal, and never use lighter fluid to get your Big Green Egg started.
Big Green Egg Cooking Tip #2
Keep all the vents open when lighting your charcoal, and don't close the lid anytime during the first 10 minutes your grill is lit.
Big Green Egg Cooking Tip #3
Never open the lid without "burping" it first. Simply lift the lid just a few inches to release the heat to avoid a full blast.
Big Green Egg Cooking Tip #4
Light all of your coals for direct grilling meats like burgers, steaks, and pork chops. You can preheat to approximately 650 degrees and open the top and bottom vents completely. Sear your meat one minute on each side, then lower the lid to seal in moisture and infuse incredible smokey flavor into your cuts.
Big Green Egg Cooking Tip #5
Use the ceramic plate known as a convEGGtor for convenient indirect smoking and grilling.
Big Green Egg Cooking Tip #6
Add 3 chunks of hardwood like hickory to the top of the coals that are unlit to achieve maximum smoke flavoring.
Big Green Egg Cooking Tip #7
Pre-heat to 200 degrees after setting up for slow cooking in order to cold smoke your meats. Add ice to a pan and place it on top of the convEGGtor, and put the food you want to cold smoke on top of that.
https://keystonepropane.com/wp-content/uploads/2019/07/challenger-tabel-with-wheels-egg-open.png
667
1000
Keystone Propane
/wp-content/themes/enfold-child-keystone/images/keystone-logo.svg
Keystone Propane
2015-05-06 00:00:00
2023-03-02 11:56:33
10 Big Green Egg Cooking Tips