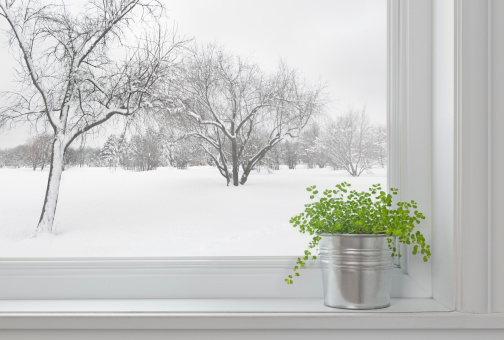 5 Affordable Ways to Winterize Your Home
Winter. Whether we like it or not, it's right around the corner, ready to drop the temp while you crank up the thermostat. Don't wait 'til the last minute to start thinking about winterizing your home. Fall can often bring low temps as well, and someday soon you'll be giving in to the chill and turning on your home's heat.
So, what can you do to help minimize your heating bill without breaking the bank? Here are 5 affordable ways to get a jump start on winterizing your home.
1. Dodging the Draft
Many homeowners struggle with cold drafts, particularly if they happen to own an older home. So, what's the solution? You can thank your elders for this little gift. Introducing … the draft snake. This trend started during the Great Depression, and the best part is simple and affordable. All you need to do is fill a fabric pouch with sand or just roll up an old towel to make your draft snake, then place it along the foot of your door. It will stop the warm air from rushing out and the cold air from rushing in.
2. Bring on the Bubble Wrap
Try to resist popping that bubble wrap (we know, it's so much fun) and use it as cheap insulation for your windows. It may look slightly unconventional, but we'll see who's laughing when you save a ton on your heating bill.
3. Redirect Your Ceiling Fans
This is one simple trick that eludes many homeowners. If you have ceiling fans, take a close look at what direction they are currently turning. A clockwise rotation will create warm air, while a counter-clockwise rotation will create cool air. When the temp outside begins to drop, make sure you have your fan set correctly and you could be cutting your heating costs by as much as 10%.
4. Set Your Thermostat
Don't waste heat while you're sleeping or away at work for the day. Be sure to turn down your thermostat at night to anywhere from 50 to 55 degrees and watch your heating costs drop as much as 10%. If you choose to upgrade, there are programmable thermostats available for purchase, or you can save by just remembering to be diligent.
5. Lower the Water Heater Temp
Most water heaters come with a default setting which most people never adjust. A typical water heater is initially set for 140 degrees, but lowering your setting to 120 degrees will still be a comfortable water temperature while saving you an additional 6-10% on your heating costs.
Keystone Propane is proud to provide our customers with affordable, dependable heating fuel and delivery. Please give us a call today for more information and find out why Keystone Propane is the only choice for your home heating.
https://keystonepropane.com/wp-content/uploads/2019/07/winterize-your-home.jpg
340
504
Keystone Propane
/wp-content/themes/enfold-child-keystone/images/keystone-logo.svg
Keystone Propane
2014-08-07 00:00:00
2014-08-07 00:00:00
5 Affordable Ways to Winterize Your Home