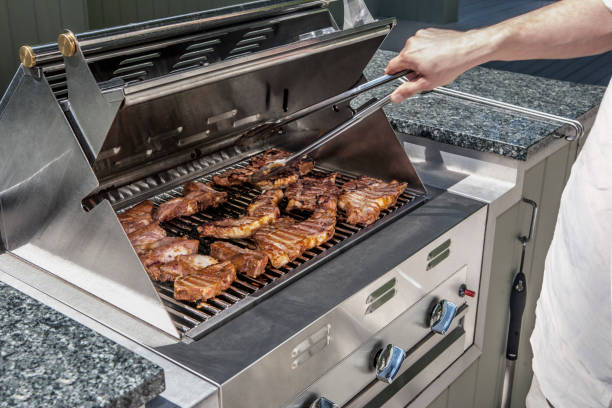 Propane Usage for Grilling in the Fall
Fall is near and it's the season of change. As the days begin to grow shorter and evenings cooler (and more pleasant), it's time to change the way you grill and enjoy the outdoors too. 
Keystone Propane is dedicated to taking care of your propane needs all year round, including the season of tailgates and family get-togethers. Here's a few ways to use propane for autumn grilling and other autumn activities. 
PROPANE GRILL BENEFITS
Grilling is often thought of as a summer pastime, but fall is a great time of year to do it as well. A lot of people enjoy grilling this time of year due to the favorable weather, beautiful outdoor setting, holidays, and events such as football games. 
One of the top benefits of propane grills is that cleaning them is a breeze compared to charcoal grills. This makes them perfect for taking advantage of the limited daylight hours. An even greater convenience is if your home uses propane for heat, you may not need to buy an additional tank. If so, it would be helpful to look into connecting your grill to a bulk home propane source. That way you'll always be sure to have fuel on hand for your grilling and cooking needs.
Of course all good things must come to an end – including grilling. There is that time towards the end of the season when it's time to put away your grill for winter storage. Use this time as an opportunity to assess anything that may need to be fixed, replaced, or cleaned. This is a great opportunity to clean and inspect all components to get ready for the upcoming season. We have everything you need to do some end of fall/early winter grill inspecting.
PROPANE PATIO HEATERS
In addition to grilling, using propane for heat is also a great way to continue enjoying your patio into the cooler months. Propane patio heaters are a cost-efficient and low-maintenance way to keep warm while grilling or just enjoying the beautiful colors of fall. Another plus is that they are more visually appealing than the usual space heater. You can select one that looks great with your outdoor decor, as there are many different styles available. 
If you already use propane to heat the inside of your home, why not use it to heat the outside too? Patio heaters are an easy addition to your outdoor living space to make it usable and functional all year round.
PROPANE FIRE PITS
Another great way to use propane and to continue grilling into the fall is by heating your space with a fire pit. Unlike it's messier cousin, the wood fire, fire pits are easier to clean and odorless. They make for an altogether safer heating solution than wood burning fires. If you live in an area where open flames are not allowed or you just want to focus more on enjoying the day or evening, instead of constantly rekindling a fire, this is the ideal way to go.
FALL PREP TIP FOR PROPANE USERS
As the new season approaches, be sure to check that your propane tanks are filled and ready to go. Also check that your appliances that use propane have been serviced if need be. Working with a technician to ensure everything is properly inspected and taken care of is a great way to avoid any potential problems when using your propane. 
CONTACT KEYSTONE PROPANE TODAY
If you're looking to schedule a propane check-up for fall grilling and outdoor activities, Keystone Propane is here to help. Contact us today to schedule a service appointment or for additional information about our propane services and products.
https://keystonepropane.com/wp-content/uploads/2021/08/propane-grilling-for-fall.jpg
408
612
Keystone Propane
/wp-content/themes/enfold-child-keystone/images/keystone-logo.svg
Keystone Propane
2021-08-31 11:26:53
2021-08-31 11:26:53
Propane Usage for Grilling in the Fall