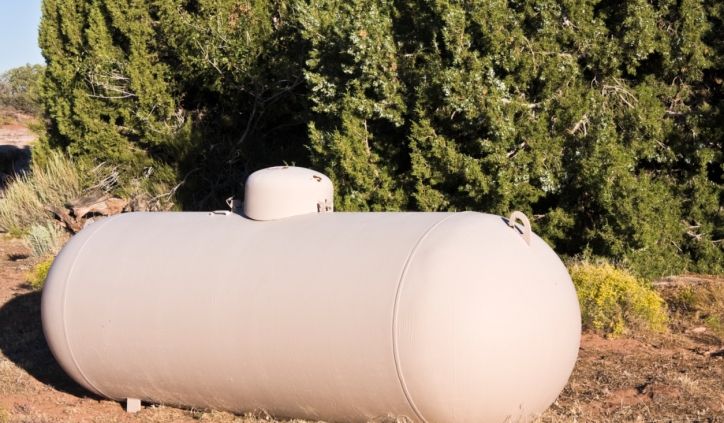 3 Tips for Hiding Your Propane Tank
There are many reasons why homeowners use propane gas to heat their homes. Propane is one of the most versatile energy sources available and has the ability to provide affordable home heating that is both environmentally friendly and efficient. Delivery is an easy process and Keystone's personnel will fill your tank to meet your predetermined needs.
Although most propane tanks are located in the rear of the home, out of view from passersby, they do stick out like a sore thumb. Who wants their beautiful landscape marred by a propane tank? That's why many homeowners take the time to fully integrate their tanks into their backyard space for maximum outdoor beautification.
How to Hide your Propane Tank
If you enjoy spending quality time outdoors and feel that your propane tank could use some extra TLC, here are a few tips to safely hide your propane tank from view:
Tip 1 – Landscaping
This is one of the simplest and most affordable ways to make your propane tank easy on the eyes. Some beautiful flowers or low shrubs can lessen the stark contrast the tank has against its organic surroundings. It is extremely important to avoid hitting any propane lines when landscaping as they are typically located no deeper than 12 inches under the surface. All plants, flowers, or shrubs should have shallow roots and should be planted a minimum of 3 feet away to avoid potential interference with the propane line when hiding your propane tank.
Tip 2 – Additional Fencing
Another very common trick is to create additional fencing that extends in front of the propane tank and blocks it from view. This is a very successful tactic as long as you are very careful about leaving adequate access to the tank and proper ventilation. Avoid completely enclosing the propane tank with fencing, but instead, use your fence camouflage. This is especially important if you live in areas that have a snow accumulation, as the enclosed area can easily fill up, making it extremely difficult for your propane provider to access the tank.
Tip 3 – Create a Facade
If you're feeling a bit adventurous, you can create a facade resembling the front of a small shed (or any object you'd like) to hide your propane tank. This is a project that can be fun for the whole family while keeping your propane tank out of view. This is also an excellent way to make sure your propane tank is still fully accessible and receiving an adequate amount of sun.
Any of these ideas for hiding your propane tank are great for making it look more at home in its natural surroundings, but it is imperative that you always make sure there is enough ventilation for your tank and a lot of space to allow for easy access.
If you are unsure on how much access space or ventilation is required for hiding your propane tank, feel free to contact Keystone Propane and one of our propane delivery professionals will be happy to supply you with the info you need to make your propane tank project successful.
https://keystonepropane.com/wp-content/uploads/2019/07/ThinkstockPhotos-101711764.jpg
483
724
Keystone Propane
/wp-content/themes/enfold-child-keystone/images/keystone-logo.svg
Keystone Propane
2015-07-12 00:00:00
2015-07-12 00:00:00
3 Tips for Hiding Your Propane Tank