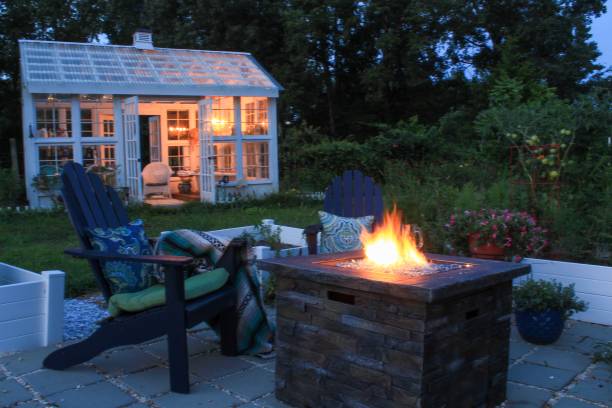 Using Propane For Patio Heating
Propane is a great and safe source of energy and heating for your home. Now that we are in the spring season, we know it's time to start using your outdoor living area for different activities such as grilling and get-togethers with friends and family. With some cooler days and nights still occurring, you may be wondering what the best way is to heat your patio or outdoor living area. Maybe you're torn between using a traditional wood fire pit or trying out a propane gas fire pit. Keystone Propane can help you decide which is the right fit for you.
Before We Dive Into The Pros and Cons of Propane Vs. Wood…
Remember to check with your municipality's open burning regulations prior to getting any type of outdoor fire pit or fireplace. You want to make sure it's legal to have one first.
Propane Vs. Wood Fire Pits: Which Is Better?
The first thought that comes to mind when thinking of a fire pit is probably a wood-burning one, with a roaring fire contained in a stone or metal ring. You can probably picture gathering around it to spend quality time with friends and loved ones.
However, similar to how wood-burning fireplaces have some imperfections, so do wood fire pits. Here's a few of them:
Poor Lighting:

Imagine trying to light a fire on a mildly windy night. This is a challenge with wood fire pits. They can either be difficult or take too long to light, causing an annoyance for everyone. If you use a propane gas fire pit, you can enjoy a warm and well lit night at the push of a button.

Keeping the fire (and party) going:

Aside from being a challenge to light, it can also be difficult to keep a fire going consistently. Using wood requires you to continuously feed the flames to keep the fire going. However with propane, as long as you have gas, you will have a fire constantly going in your fire pit with minimal maintenance, if any at all.

Smoke Hazards:

We know that one of the most appealing aspects of a wood burning fire pit is the smell of the wood. However with that smell comes smoke – which could cause eye irritation and other issues. No one wants to end up dealing with red or irritated eyes and smelly clothing all night. Using propane eliminates all of this.

Safety and Peace of Mind:

It's no secret that gas fire pits are usually more safe than wood-burning ones. Wood fire pits can emit sparks or embers that could pose a big threat. Meanwhile, gas fire pits don't do that. Gas fire pits are also easier to extinguish. With a click of a button, the fire can die away just as easily and quickly as it started. 
Ready to Try a Propane Fire Pit? 
If you're sure you want to add an outdoor fire pit or fireplace to your home this season, take a look at what Keystone Propane has to offer. Contact us today or visit our showroom to find the right fire pit for your needs. We look forward to helping you enjoy the great outdoors!
https://keystonepropane.com/wp-content/uploads/2022/03/propane-fire-pit.jpg
408
612
Keystone Propane
/wp-content/themes/enfold-child-keystone/images/keystone-logo.svg
Keystone Propane
2022-03-31 13:43:31
2022-03-31 13:43:31
Using Propane For Patio Heating