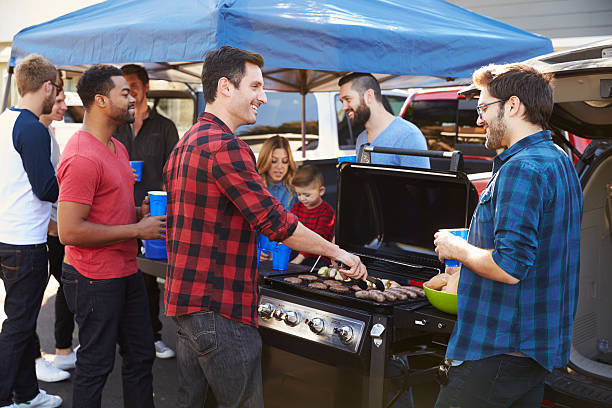 Tailgating Safety for 2022
Football season is around the corner, and that means one thing – it's time to tailgate! But have you prepared for it? Keep in mind some stadiums or venues have banned charcoal grills, which means portable propane grills are becoming the top choice for grilling. If you're getting ready to make the switch, here are a few tips to keep in mind to make sure you have a fun and safe time. 
Tailgate Grilling Safety Tips
Prepare Beforehand
Be sure to check if your propane tank is full before you head out to cheer on your team. Make sure it's safely secured too for transporting to and from the game.
Transporting Your Propane Grill
Let's dive into transporting your grill for a moment. You should take extra measures when doing this by first disconnecting the tank and then placing it in an upright position to keep itfrom leaking. Try to avoid putting it in the trunk if you aren't transporting it in a truck. Instead, you can put it on the back seat floor and  open a window in case there is a leak.
Propane Grill Set-Up
Some grills, like the Big Green Egg are very easy to set up. Even with these, you'll want to make sure you set your grill station up away  from cars and other potentially flammable areas.
Another step to be mindful of is to open your grill before lighting it. During a leak, propane builds up under the hood of a grill and could become combustible if it's not released. Make sure you don't allow smoke near the grill to avoid unintended combustion.
Remember to Clean-Up 
Prior to going into the stadium, make sure the space you occupied is left clean. Throw away all garbage including plates, napkins, cups, and other trash that could potentially catch fire. Also allow time for your grill to cool off before leaving the tailgate. You can speed up the cool down time by leaving the grill's hood in the upright position.
Emergency Tailgating Safety Tips 
In the event of an emergency during game day, dial 911 or connect with the stadium's security for assistance. 
If you have grilling concerns or need help leading up to game day, contact Keystone Propane. It's our responsibility to provide you with quality propane for both commercial and residential areas, and to make sure you're able to use them safely. 
https://keystonepropane.com/wp-content/uploads/2022/07/propane-grill-safety-2022.jpg
408
612
Keystone Propane
/wp-content/themes/enfold-child-keystone/images/keystone-logo.svg
Keystone Propane
2022-07-21 13:45:28
2022-07-21 13:45:28
Tailgating Safety for 2022