Engineered specifically for off-grid use, our EcoGen Series automatic standby generator is your green solution for affordable, reliable, low-emission, off-grid standby power.
Power outages do not always occur during normal working hours – that is why we have implemented a 24/7-365 customer care call center right here in Wisconsin. That means we are standing by 24/7, every minute of every day to answer your calls.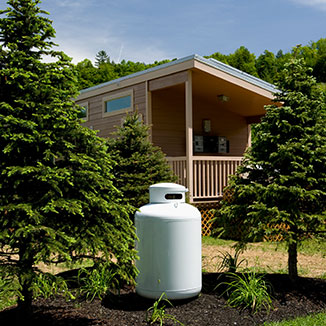 Greener, Efficient, Abundant
Clean-burning propane fuel increases efficiency, contributes to longer engine life, and produces significantly less carbon monoxide than gasoline-fueled engines. Propane gas can be stored indefinitely and is available at many off-grid locations.
Extended Run
Our exclusive premium oil-recovery and circulation system virtually halts the oil degradation, resulting in greatly extended maintenance intervals—an unprecedented five times the industry standard, with 500 hours between oil changes.
Quiet Performance
At least 10 dB(A) quieter than competitive units and significantly quieter than a standard portable.
OHVI Engine
Purpose-built for the rigors of generator use, and requires significantly fewer scheduled maintenance checkups than competitive engines.
Nexus™ Controller
Easily control generator diagnostics and get information at a glance with Generac's user-friendly Nexus™ Controller—the most comprehensive controller available.